Capital City Veterinary Clinic is a full service veterinary Hospital offering routine and urgent care services for your pet. We are open 7 days a week with convenient late evening and weekend hours. Our clinic is fully walk-in for routine as well as urgent care needs of your pet. We only make appointments for routine surgical and dental procedures. We are fully equipped with in house lab, capable of performing full blood panels in cases of emergency, digital radiography, laser (to minimize bleeding and pain),ultrasound, full pharmacy and prescription diets. Our clinic also offers wellness and preventive care packages for pets of any age along with additional discounts on other services. Capital City Veterinary Clinic is dedicated to providing pets and clients the highest quality and most compassionate care at a reasonable cost.
Dr. Gursharan Singh
Veterinarian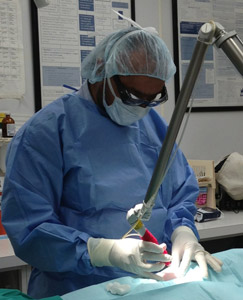 Dr Singh has been practicing small animal medicine and surgery for the last 15 years. He has worked in a very busy small animal practice in Milwaukee as well as in an emergency clinic in the Madison area. He has special interests in emergency medicine, orthopedics and laser surgery. From now on Dr. Singh will be part of the Capital City Veterinary Clinic offering all the services to our clients and their loving pets. In his spare time he likes to travel, spend time with his 3 children, wife, and Yorkshire terrier named "Shera."
Dr. Jon Dean
Veterinarian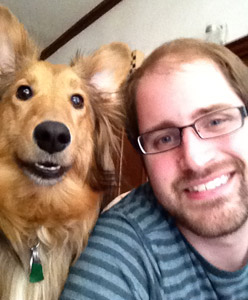 Dr. Dean's special interests in practice are nutrition, animal behavior, ophthalmology and urology. Prior to coming to Capital City Vet Clinic, he did veterinary clinical research in the University of Minnesota's departments of Integrative Biology and Physiology and Veterinary Clinical Sciences. When not at work, his hobbies include travel, home improvement projects, rugby union, camping and fishing. He and his husband live on the north side of Madison with their sheltie/corgi mix, Molly.
Dr. Kelly Schultz
Veterinarian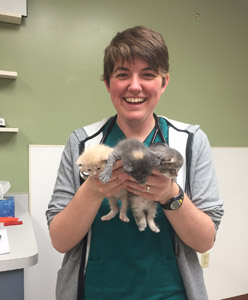 Dr. Kelly Schultz has degrees in biology, psychology and conservation biology as well as her Doctorate of Veterinary Medicine from UW-Madison. Since 2002, she has been working with a wide array of animal species from dogs and cats, to monkeys, turtles, cranes, mice, chinchillas and other less typical species. Before becoming a veterinarian Dr. Schultz worked in behavioral research and taught introductory biology at UW Madison. She has special interests that include but are not limited to: preventative care, client education, infectious diseases and public health.
Brittany Gering
Vet Assistant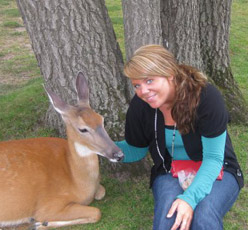 Growing up in the Milwaukee area, Brittany always lived with & been around animals. After graduation from UW-Whitewater, with a bachelor's degree in business, Brittany volunteered at Winnebago County Animal Services located in Rockford, IL. Assisting animals with finding their "forever homes" transitioned Brittany into a veterinary medicine career. Before joining Capital City Veterinary Clinic, she spent 3 years working at a veterinary clinic in Madison WI. Brittany enjoys using her skills to help achieve client satisfaction & creating new and exciting marketing ideas. When Brittany is not at work, she love spending her leisure time in the outdoors with her three dogs; Winston, Chase and Lacy. Brittany also enjoys playing tennis and doing projects around her house.
Hilary
Receptionist/Assistant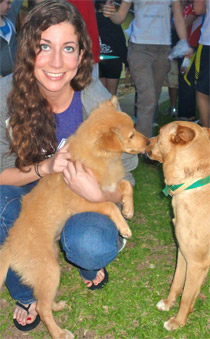 Hilary moved to Madison after graduating from the University of Michigan. She has always loved being around and working with animals, and is thrilled to now be working with all of the furry patients at Capital City Vet Clinic. In her free time, she enjoys volunteering with local animal shelters, spending time with friends and family, and exploring Madison.
Fay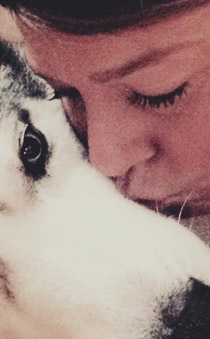 From growing up in the Milwaukee area to currently living in Madison, Pheadra grew up around pets her whole life. She has always had a passion for helping and taking care of animals from large to small. Before joining our team at Capital City Veterinary Clinic in the fall of 2016, Pheadra worked in the veterinarian field for 4years, both in emergency and day practices. When Pheadra's not at work, she spends her free time with family, friends and her Siberian husky Koda. On her leisure time she likes being outdoors enjoying her favorite hobby with her three horses Charlie, Ollie, and Cookie horseback riding.
Leah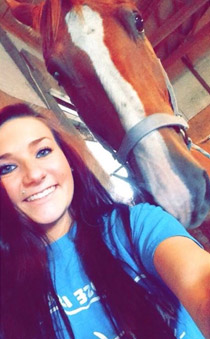 Leah joined the Capital City Vet Clinic family in 2017. She grew up with various family pets in Milwaukee, WI. Outside of work, Leah enjoys pleasure riding her horse Ollie, playing with her dogs Maddie and Bootsie, and spending time with her daughter Brylee. Leah enjoys being around all types of animals large and small. Her favorite part of veterinary medicine is seeing pearly white teeth after cleaning years of tarter build up from dental patient's mouth.
Sarah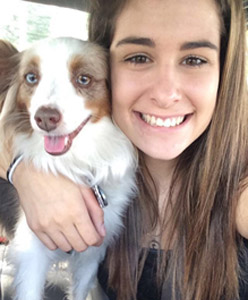 Sarah was born and raised in Green Bay, WI. Naturally, she is a Packers fan. After high school, she attended UW-River Falls where she pursued a degree in Animal Science: Companion Animals and a minor in Biology. During her four years there, she played three years of college soccer supporting the Falcon colors. After graduation, she adopted her best friend, Dazzle, a toy Australian Shepherd. She then attended Madison College to further pursue her dream of becoming a Certified Veterinary Technician. She plans on graduating in May 2018 and then taking the VTNE. She enjoys going on adventures to Wisconsin State Parks and doing anything outdoors.
Abby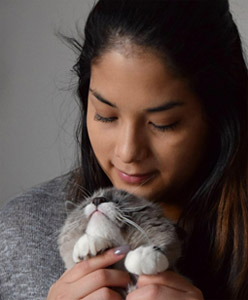 Abby is from Green Bay, WI where she was raised. She is currently in her second year at Madison College pursuing a degree in Veterinary Technician. She then plans to take the VTNE and become a Certified Veterinary Technician. She is the godmother of Sarah's dog, Dazzle and has two kittens of her own, Lynx and Wolf. She has two childhood pets, Princess and Fiji, that currently live in Green Bay. Abby enjoys traveling and being outdoors with her family.